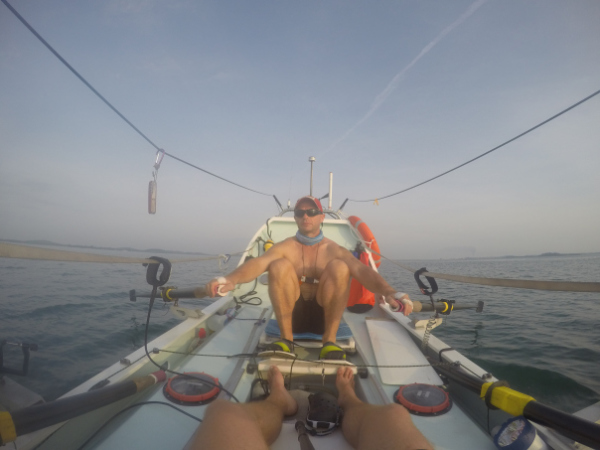 I've seen via facebook that you've been out on your boat 'Simpsons Donkey' quite a lot (far more than I ever did!).  It's much more sophisticated than pacific Pete is.  Can you give us a low down on your boat?



We will be rowing one of the latest and fastest ocean rowing boats available in the world.  The boat is designed and manufactured in the UK by Rannoch Adventures.  The hull is moulded from a blend of fibreglass and carbon, making it extremely strong but lightweight.  The boat is self-righting, so in the event of rough weather capsizing our vessel (which will most definitely happen) the boat is designed to roll back over by itself (as long as  the hatches are firmly shut!).  We will have solar panels and battery systems on-board to power a water maker which we will use to make our drinking water.  We also have a GPS system for navigation, an electrical autopilot which controls the rudder, a VHF radio, an AIS beacon which identifies our position to other ships, GPS tracking devices, emergency beacons and a satellite telephone for communication.
 Hi Grant, thanks so much for sitting down and sharing some stories and knowledge with me and being my first interviewee! First off it's a question you must get a lot; What's with 'Axe'?!  it's the kind of name that many a guy would long to have bestowed upon them!
Hi mate – congrats on your recent journey to Elbrus expedition – I loved following.  Axe comes from rugby days, I played rugby for 25 years and the name Axe was reference to the way I tackled people.
 Thanks buddy! I have to say I assumed the name came from Mountaineering! Which leads us onto your background and your adventures thus far.  Playing Rugby must have been hard to give up?  Was it an easy transition?  
Yes for 25 years it was my major passion in life until I broke so many bones and tore so many ligaments my body said enough – even though my head and heart were very much still in the game.  It was a tough time for awhile as I went through some massive withdrawal symptons until I found my passion reignited in the world of adventure – mainly mo
untaineering.
First the transition from team sport to solo adventurer and you're also a Kiwi living in Singapore which must be quite a culture change?! New Zealand is synonymous with adventure sports and the great outdoors and so do you find that your ideas and adventures gain more press in Singapore than they would/do 'back home'?
I don't really get much press – here in Singapore people don't understand adventure like they do in New Zealand  – Singapore is a high pressure society and working and making money are very much the priorities not adventure. 
I've been following your prep for your next big thing.  Can you tell us what that is all about?
Rowing from Home to Home is my vision for a massive completely human powered expedition from Singapore – my current home back to my original home in New Zealand. Using an ocean rowing boat and bicycle.
Is this a solo adventure or will it be with someone else?
I have a two-person boat – I would never row solo – solo rowers are crazy guys Scott(wink wink).
Haha! Thanks mate! Are you worried about maintaining your fitness/strength for a totally different discipline for the bike stage?  Do you have a time frame for the cycle?
Yes I am and it's all about nutrition – putting the right fuel into the machine.  For this reason I have engaged the services of the most experienced sports endurance nutritionist I can find, a New Zealander called Gary Moller.  Through Gary we have done hair tissue analysis to see what state I am in, and have formed a nutrition programme around building my reserves where they are needed before the start of the journey.  During the journey itself – we are developing a plan to ensure we have the right blend of fuel every day which will allow me to perform and not run the tank empty of those key minerals and elements which I need to operate.  We are really applying a very scientific approach to this, customised specifically around my own body with detailed testing and planning. 
And the cycle is self supported also?


Yes – that's the way I generally like to do things.  My one exception to this would be if my wife would like to join with our two daughters who are too young to cycle.  But I asked if she would come along even for a few days in a campervan and share some of the experience with the girls as well.  It seems unlikely this will happen due to logistics and her leave situation with her work.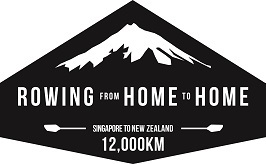 So, you're back in the boat after your cycle!  From my own experience, I wouldn't have wanted to get back in that boat after the climb, so hats off to you!  This is all such a long way from what you're known for (although I believe your book  from peak to peak documents a similar adventure?) .  Was that a factor in coming up with this expedition?  And I presume this is all started before your two beautiful children came along.  Did their arrival alter your plans at all?
I became interested in human powered adventure in 2013 after I climbed Mt Everest. I wanted something that combined my passion for mountaineering with my love of cycle touring and kayaking  - and came up with the idea of long human powered journeys.  When I say human power I mean completely by human power, not using sails or engines of any kind.  This next expedition will be my fourth major human powered journey, and also the longest. You can read more about my previous journeys on my website
www.axeoneverest.com
Well worth reading I think! With such a successful career, can you offer three pearls of wisdom to anyone looking to find their feet in the adventure world, no matter how big or small their plans?
Start small – do your apprenticeship, learn the ropes, scratch and scrape the money together to try things out yourself, independently rather than hiring guides and using massive levels of support to shortcut the learning process.  Most of the fun is in the journey – not with the photo at the finish line. That's my main point I would like to offer I think.
I couldn't agree more.  Will we be able to follow your prep and once its under way, follow your journey?